Gingerbead Loaf with Orange Icing.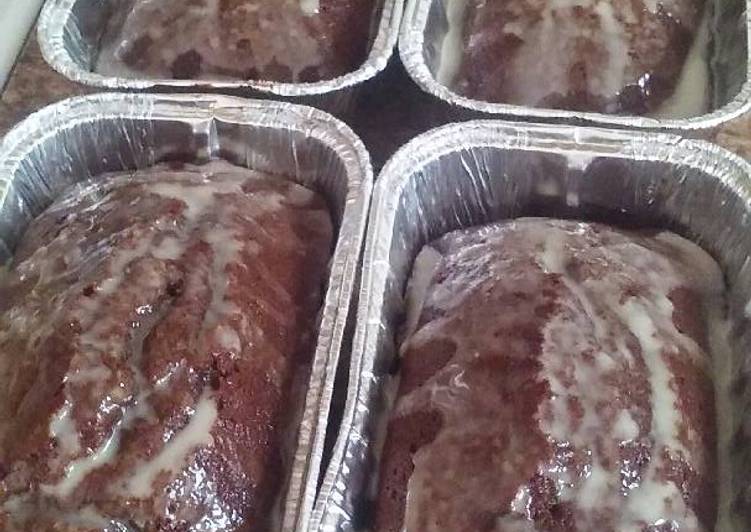 You can have Gingerbead Loaf with Orange Icing using 16 ingredients and 10 steps. Here is how you cook that.
Ingredients of Gingerbead Loaf with Orange Icing
You need 2 cups of all purpose flour.
It's 1 tsp. of baking soda.
It's 1 1/2 tsp. of ground ginger.
You need 1 1/2 tsp. of ground cinnamon.
It's 1/4 tsp. of ground cloves.
Prepare 1/4 tsp. of salt.
Prepare 1/8 tsp. of black pepper.
Prepare 3/4 cup of unsulphured or dark molasses.
It's 3/4 cup of hot water.
It's 1/2 cup (1 stick) of unsalted butter, softened to room temperature.
You need 1/3 cup of brown sugar (light or dark fine).
It's 1 of large egg, at room temperature.
It's 1 tsp. of vanilla extract.
Prepare of Orange Icing :.
Prepare 1 cup of confectioners' sugar, sifted.
It's 2-3 tbsp. of orange juice.
Gingerbead Loaf with Orange Icing step by step
Adjust your oven rack to the lower third position and preheat the oven to 350 F. Grease a 9x5" loaf pan and set aside..
In a medium bowl, whisk together the flour, baking soda, ginger, cinnamon, cloves, salt and pepper. Set aside..
In a small bowl, whisk the molasses and hot water together. Set aside..
In a large bowl, using a hand held mixer (or stand mixer with paddle attachment), beat the butter on high speed until it is smooth and creamy...about 1 minute. Add the brown sugar and beat until they are creamed together, about 1 minute more. Beat in the egg and vanilla until combined..
With the mixer on low speed, start to add the dry ingredients. Alternate between adding the dry and adding the hot water and molasses mixture. Mix until just incorporated. Batter will be very thin. Avoid overmixing..
Pour batter into prepared pan. Bake around 50-60 minutes, or until a toothpick inserted into the center comes out mostly clean, with just a few moist crumbs..
Place the pan on a wire rack and allow the loaf to cool completely in the pan, before removing and icing..
To make the icing : Simply whisk together the sifted confectioners' sugar and the orange juice. Once the loaf is completely cooled, drizzle the icing over the top of the loaf..
Store covered in the fridge for up to 5 days. If not frosting, then it can be stored at room temperature..
This recipe can also be made into muffins. Fill greased or lined muffin tins up 2/3 of the way with the batter. Bake for 20-22 minutes, until toothpick comes out mostly clean with just a few moist crumbs. Cool completely before drizzling the glaze over them..