Pumpkin Cheesecake with Gingersnap crust & Praline Caramel topping. Press mixture onto the bottom and two inches up the sides of the pan to form the crust. For the pumpkin gingersnap cheesecake: In a food processor or blender, grind the gingersnaps until fine. Pour into a bowl and stir in the pecans, melted butter, brown sugar and salt.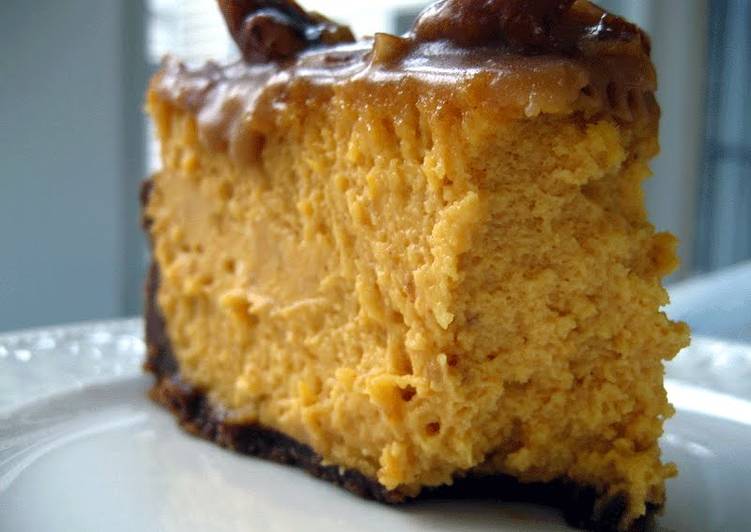 Spicy gingersnaps stand in for the more traditional graham crackers in the crust of this Pumpkin-Cheesecake Pie, and make an excellent foil for the rich pumpkin-cream cheese filling. A border of meringue piped into leaves and bruleed with a kitchen torch takes the pie to the next level. This recipe was inspired by my pumpkin crumble bars. You can cook Pumpkin Cheesecake with Gingersnap crust & Praline Caramel topping using 21 ingredients and 11 steps. Here is how you achieve it.
Ingredients of Pumpkin Cheesecake with Gingersnap crust & Praline Caramel topping
Prepare of Ginger crust.
You need of Gingersnap cookies (crushed) - abt. 40 cookies.
You need of Butter, unsalted (1 stick), melted.
You need of Sugar.
You need of Ground Cinnamon.
It's of Pumpkin filling.
It's of (8 oz.) Cream cheese (at room temperature).
It's of Sugar.
You need of Eggs.
Prepare of Vanilla extract.
Prepare of (15 oz.) Pure Pumpkin.
Prepare of Ground Cinnamon.
You need of ground Nutmeg.
Prepare of ground Ginger.
Prepare of Praline topping.
It's of Pecans.
It's of firmly packed light Brown Sugar.
Prepare of Heavy whipping cream.
It's of Vanilla extract.
Prepare of Salt.
It's of Butter (unsalted).
They're my most popular fall recipe. I combined pumpkin, cream cheese, and yogurt for those bars and everyone loved them. I decided to go full-on with pumpkin and cream cheese in the form of a delicate cheesecake that is sure to impress anyone who. For the crust: Combine all of the ingredients in the bowl of a food processor and pulse until evenly mixed.
Pumpkin Cheesecake with Gingersnap crust & Praline Caramel topping step by step
Crush your gingersnaps ahead of time so you can make crust quicker. Crush cookies and mix with other crust dry ingredients, seal tightly and set aside until ready to use..
TO MAKE CRUST: Line the bottom of a 9 or 10 - inch springfoam pan with parchment paper and coat with cooking spray. In a large bowl, stir together the melted butter with the crushed gingersnaps, sugar and cinnamon. Press into the bottom of the prepared pan, working some of it up the sides, if desired..
Preheat the oven to 350°F..
TO MAKE FILLING: Using a mixer fitted with a paddle attachment, beat the cream cheese in a large bowl on medium-high speed about 1 minute, until fluffy. Add sugar and beat until smooth, about 1 minute. Add eggs, one at a time, beating on medium-high speed for 20 seconds after each addition. Add vanilla, pumpkin, cinnamon, nutmeg and ginger; beat on medium speed about 1 minute, until incorporated..
Pour the filling over crust. Tear off a large sheet of foil and place the springfoam pan in the center, carefully folding up the sides. This prevents the waterbath (waterbaths prevent cracks) from seeping into your cheesecake and making the crust soggy. Put the wrapped pan into a larger baking pan and set it on the center rack of the oven. Pour enough boiling water into the larger pan to reach halfway up the sides of the springfoam pan (this is a waterbath)..
Bake about 1 hour, until the filling is set and golden brown on top. It should barely jiggle when the pan is gently slid. Cool the cheesecake on a rack about 30 minutes, then remove from waterbath and chill for several hours or overnight. Remove the cheesecake from the springfoam pan and set it on a large serving plate. Make sure the plate is big enough to hold any of the praline sauce that drips over the top..
TO MAKE PRALINE TOPPING: Prevent the oven to 350°F..
Arrange the pecans in a single layer and toast them for 7-9 minutes, until golden brown and aromatic. Coarsely chop the nuts. Stir together the brown sugar, cream and butter in a sauce pan over medium heat. Boil the mixture for about 1 1/2 minutes, adjusting the heat to make sure it does not boil over. DO NOT STIR. Remove the pan from heat and stir in vanilla, salt and pecans..
Cool the topping at least 15 minutes before pouring over the top of the chilled cheesecake..
Serve immediately or cover and chill until ready to serve. The cheesecake will keep, well wrapped in the refrigerator for 3 to 4 days..
Recipe from: thepastrycase.com.
Mix in eggs one at a time, blending well after each. Spread the pumpkin flavored batter into the crust, and drop the plain batter by spoonfuls onto the top. Swirl with a knife to create a marbled effect. So "Caramel Pumpkin Gingersnap Cheesecake" it is. But wait … there are also pecans in it, too.