Sheree's Grandma's Chicken and Rice Bake (Copycat). A classic copycat family favorite casserole of chicken, rice, and veggies cooked in a creamy sauce with a crispy Panko topping! Today I want to share a copycat recipe I found a couple weeks back. I'm a big fan of a few of the Stouffers Entrees, mainly the Lasagna and the Grandmas Chicken and Vegetable Rice Bake.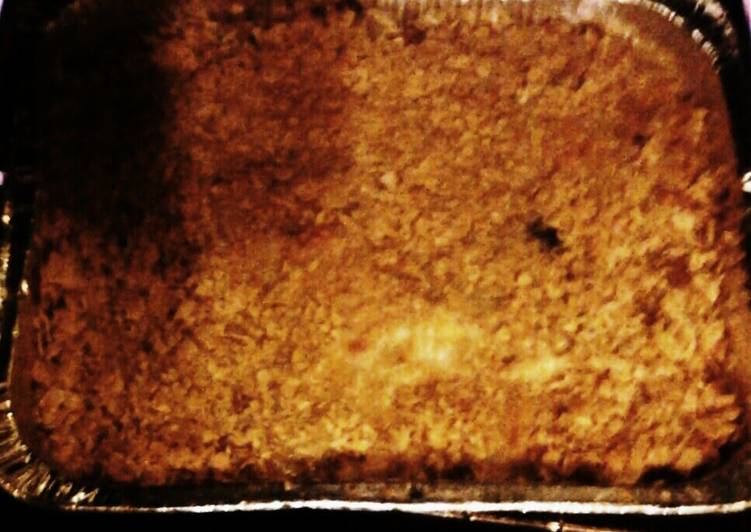 Barbara found this recipe in our Grandma's wooden recipe box. It looks like exactly what Grandma might make to use up leftovers in her refrigerator such as leftover cooked white rice and diced chicken. Grandma was the queen of frugal; she wouldn't waste anything. You can have Sheree's Grandma's Chicken and Rice Bake (Copycat) using 21 ingredients and 8 steps. Here is how you cook that.
Ingredients of Sheree's Grandma's Chicken and Rice Bake (Copycat)
It's of Grandma's Chicken and Rice Filling.
You need 2 cup of baked chicken..can use canned or rotisserie chicken.
Prepare 1/2 cup of mayonnaise. not SALAD DRESSING!!!.
You need 1 can of broccoli and cheese soup.
You need 1 can of cream of mushroom soup.
You need 1 cup of broccoli (frozen).
Prepare 1 can of sliced carrots.
Prepare 2 cup of cooked rice.
You need 2 cup of shredded cheese.
It's 1/2 cup of chicken broth or milk (optional).
It's of topping.
It's 1 cup of corn flakes (crushed).
It's 4 tbsp of butter, melted.
You need of if baking a chicken.
You need 4 of leg quarters.
It's 1/4 tsp of ground thyme.
It's 1/4 tsp of season salt (like Lawry's).
It's 1/4 tsp of ground black pepper.
It's 2 stalks of celery, minced.
It's 1/4 cup of onion, minced.
Prepare 1 cup of bell pepper (green, red, and yellow) I use frozen... its cheaper.
And finally the chicken and rice casserole aka Grandma's Chicken and Vegetable Rice Bake, with a few scoops taken out because we just couldn't wait! Even though it's an all-in-one meal, it would look so lonely on a plate all by itself, so here it is, served with more carrots and steamed broccoli. Stouffer's entrees are always quick and comforting, but nothing beats a homemade meal. This top secret recipe for Stouffer's Copycat Grandma's Chicken & Rice Bake has all the flavors of the creamy casserole you love, made in your own kitchen!
Sheree's Grandma's Chicken and Rice Bake (Copycat) step by step
Basically I use leg quarters because I love the taste better. The thighs can be deboned before cooking. This meal is a perfect (FREEZER CASSEROLE)..
If you are using pre-cooked chicken go to step #5.
If FREEZING do not add CORN FLAKES or BUTTER. It will be soggy..
IF YOU ARE BAKING YOUR OWN CHICKEN.... Put 4 leg quarters in a large bowl. Put everything on the chicken in the bowl. Use the ingredients listed for baking only. Rub all the spices into chicken by hand. Place in a baking dish cover with foil and cook at 375° for 1 1/2 hours. Take it out and open the foil and allow to cool. I use the baking broth mixed with the soups for flavor..
Put all ingredients for the casserole in a baking dish... I use disposable aluminum pans when I freeze this. If you use pre cooked chicken add about 1/2 cup of milk to mix soups..
Mix well put the crushed corn flakes on top and drizzle melted butter on top..
Bake casserole uncovered... For 35-40 minutes at 350°..
If frozen allow to thaw before baking..
If you love the combination of chicken, rice, vegetables and a delicious cream sauce, you'll go crazy for this easy casserole recipe. Grandma's Stouffer-Style Chicken and Rice Bake With this recipe, you can quickly make a delectable casserole that will please the pickiest of eaters and satisfy the largest of appetites. Please practice hand-washing and social distancing, and check out our resources for adapting to these times. Mix well, then add veggies, cooked chicken and rice. The STOUFFER'S CLASSICS Grandma's Chicken & Vegetable Rice Bake is a delightfully delicious family favorite.