Sugar free dragon fruit banana smoothie. A perfect Dragon Fruit Smoothie, made with a creamy blend of dragon fruit, mango, and banana. Keep this dragon fruit smoothie recipe vegan by using a non dairy milk and subbing a plant based protein. Dragon fruit has a mild taste, so the tropical flavor is played up with a squeeze of fresh lime.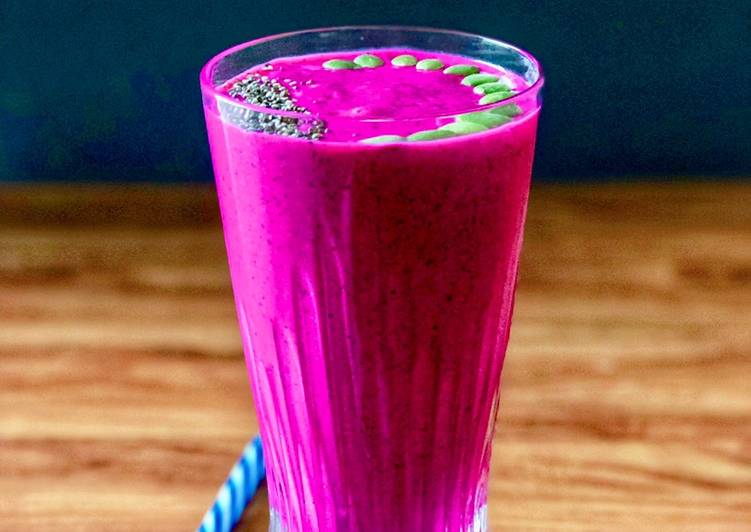 If you can find fresh dragon fruit, feel free to cut it into chunks and freeze those in an airtight container for this. This creamy, antioxidant-rich banana & dragon fruit smoothie is a great idea for breakfast or a snack. Who wants to try this exotic fruit? You can cook Sugar free dragon fruit banana smoothie using 7 ingredients and 2 steps. Here is how you achieve it.
Ingredients of Sugar free dragon fruit banana smoothie
You need 1 of dragon fruit roughly chopped.
Prepare 2 of small bananas chopped.
You need 1 tbsp of honey.
You need 1/2 cup of chilled yogurt.
Prepare 7-8 of ice cubes crushed.
Prepare 1 tsp of chia seeds for garnish.
It's 1 tsp of pumpkin seeds for garnish.
The first time I walked into the grocery store in Thailand, I was in awe. Used to the bland colors of the fruit and veggies aisle in Europe, this was an […] Blend the dragon fruit cubes,banana with yogurt and serve immediately. I did not add sugar as the smoothie was sweet on its own. So, many non-yogurt smoothies require all frozen fruit but the problem with dragon fruit is the same as banana.
Sugar free dragon fruit banana smoothie step by step
Put all the above ingredients except for chia and pumpkin seeds into a blender and blend into a smooth paste..
Pour in a glass or bowl and garnish with chia and pumpkin seeds..
They oxidize once peeled and become brown. Putting one brownish banana in a smoothie full of tons of ingredients isn't much of a problem, but putting a brownish banana AND a greyish/brownish dragon fruit in… uuum, meh! This dragon fruit recipe is simple to make and sooooo tasty! All you need is a blender, dragon fruit, banana, pineapple and cauliflower. Yep—we' sneaking in some extra nutrients and creaminess!